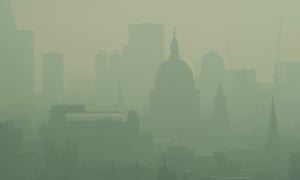 Smog in central London in 2011. Photograph: Leon Neal/AFP/Getty Images
The World Health Organisation has issued a stark new warning about deadly levels of pollution in many of the world's biggest cities, claiming poor air quality is killing millions and threatening to overwhelm health services across the globe.
Before the release next month of figures that will show air pollution has worsened since 2014 in hundreds of already blighted urban areas, the WHO says there is now a global "public health emergency" that will have untold financial implications for governments.
Continue reading:  Shock figures to reveal deadly toll of global air pollution
Further reading:  Air pollution: a dark cloud of filth poisons the world's cities